"Power for the Future"- Novusem's SiC New Product Launch Event end successfully
[ form:Novusem time:2022-07-04 view:1378 ]
On June 30, Novusem held a product launch themed "Power for the Future" with an offline launch event + synchronous live streaming to debut its independently developed NovuSiC® EJBS™ and the Silicon-based MCR® diode series, fully demonstrating its independent R&D capability and product strength.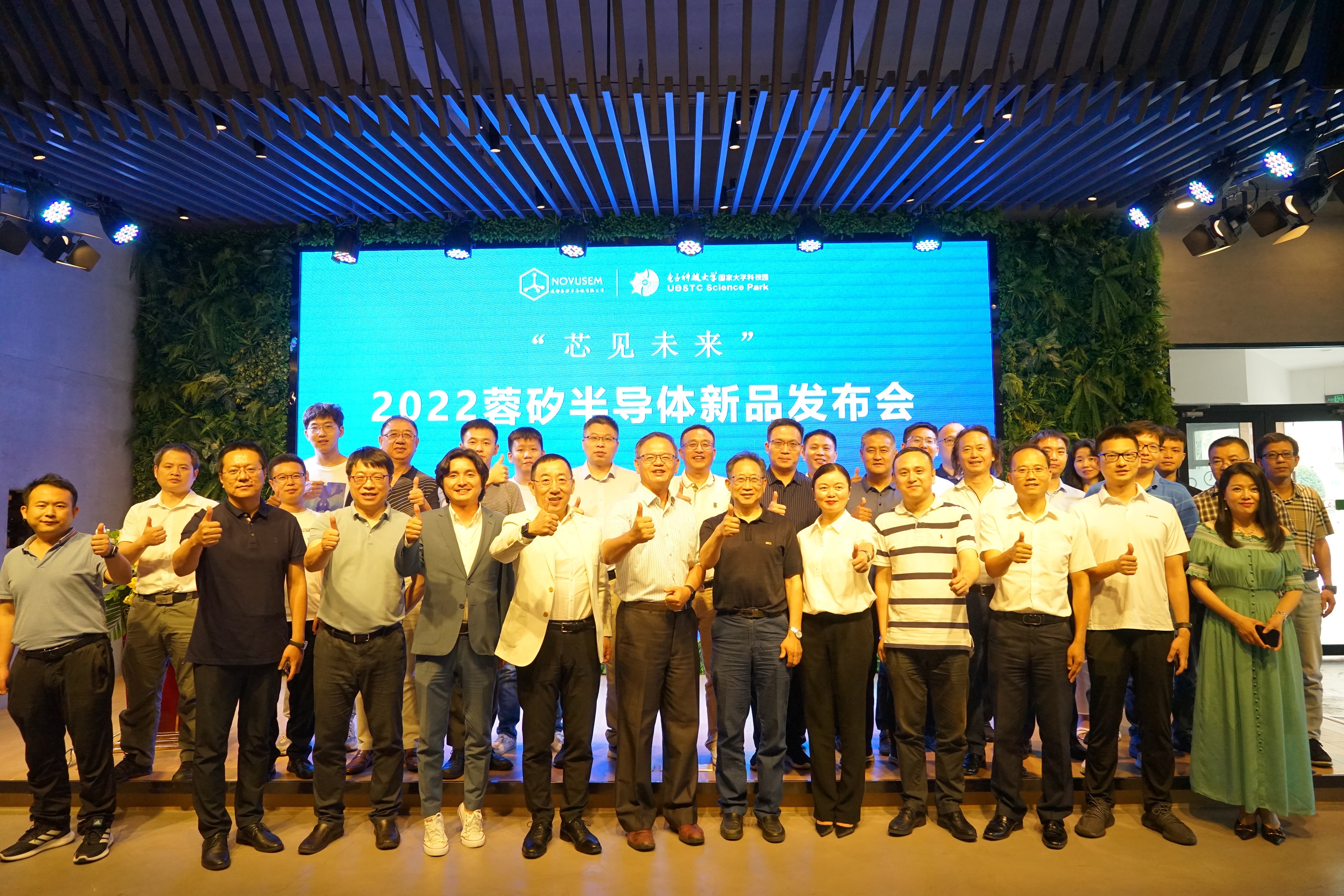 A New Milestone in SiC Device Development, Strive for Independent Chinese Chips
Founded in December 2019, Novusem concentrates on the design and development of SiC power devices. It has pooled up core SiC technical talents from all corners of the world, includingmainland China, Taiwan, Japan, and Europe. Novusem has builta complete supply chain conforming to IATF16949 quality management standards,controlling each linkfrom raw materials, epitaxy, wafer manufacturing, packaging, to testing.
At the launch event, Dai Maozhou, the General Manager of Novusem, delivered a speech on behalf of the Company. He said, "Be Earnest" is the corporate motto of Novusem, and that makes Novusem distinctive. "We are extremely earnest about customer demands and the electrical parameter setting of devices. Products are like our children, and we put a lot of energy into the entire product development process. In addition, we adhere to a unique product development concept. We define the product characteristics based on customer application scenarios and application requirements. We do not make products for general purposes."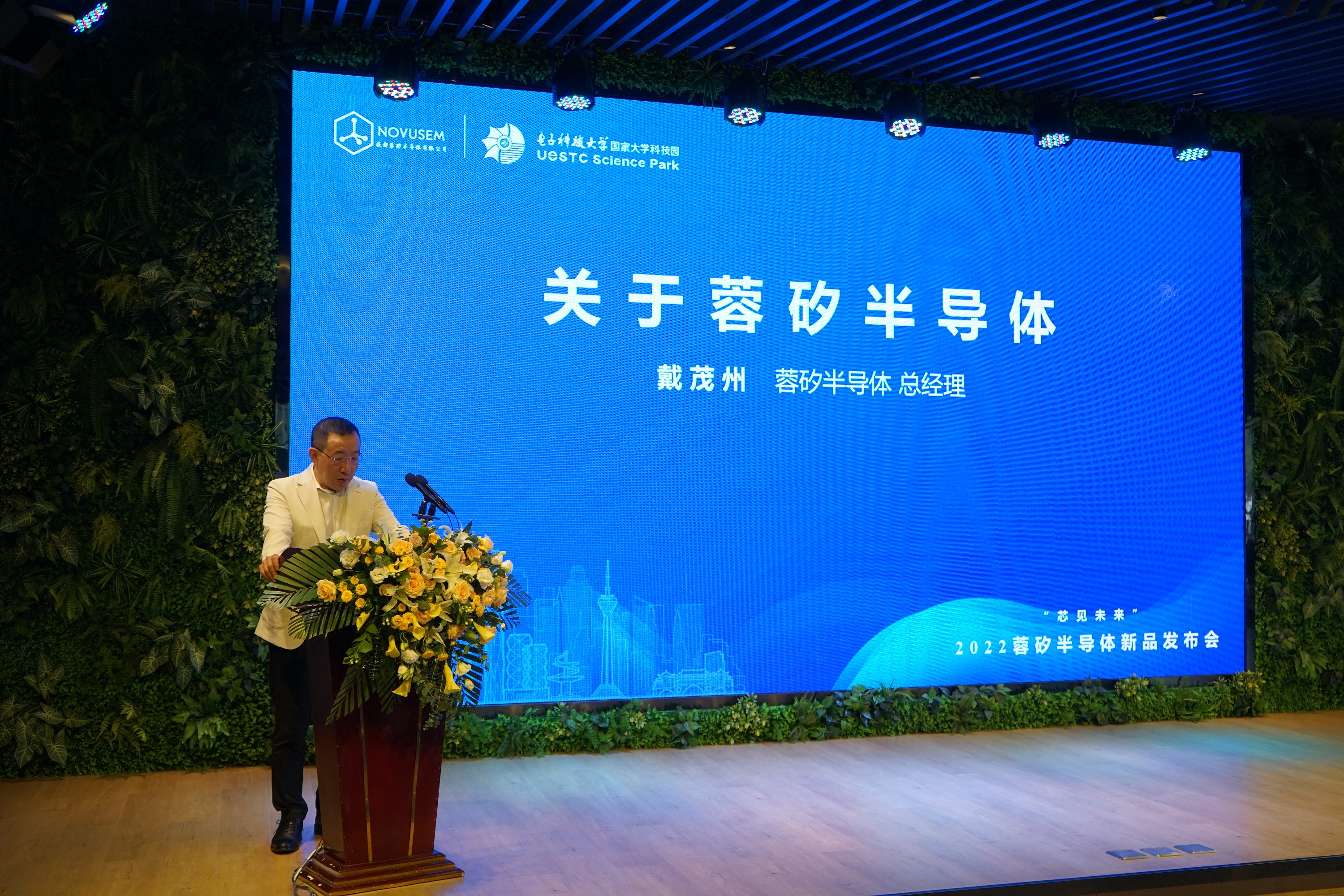 Novusem is committed to beinga leaderinSiC solutions forautomotiveindustry along with internationally leading automotive-grade SiC devices. We are striving to offer alternatives to imported products. Dai said that "A power device's reliabilityis a core featurethat should stand the test of time. To achieve high reliability, we are establishing a 'zero defect' automotive-grade quality system. Thanks to this system, we have achieved a yield rate of more than 90% at the first tape-out of our first generation SiC device, a very high honor in the semiconductor industry."
At the launch event, Novusem officially released 1200V NovuSiC® EJBS™, and announced the development progress and launch time of the new generation SiC MOSFET. According to Dai, Novusem's new product, as a nationally and internationally Tier I product in terms of both performance and cost efficiency, is the result of years of research and development. It has further enriched Novusem's product matrix and demonstrated the Company's competitiveness in the domestic SiC industry. It is a milestone in the Company's history of research and development.
In addition, as policies of "peak carbon dioxide emissions" and "carbon neutrality" become more commonplace, Dai believes that SiC power devices will be widely used for purposes requiring high power, high frequency, and high efficiency such as new energy vehicles, charging piles, industrial power supplies, PV inverters, wind power generation, UPS and communication power supplies. As a green energy-saving technology provider, Novusem will make every effort to support the government in energy conservation and emission reduction along the path toward the goals of "peak carbon dioxide emissions and carbon neutrality". Facing the expanding downstream demands, Novusem will cater to various applications with SiC devices with internationally leading performance and high reliability, thus bringing the company's future into clear focus.
Novusem's SiC devices are primarily manufactured by Episil Technologies Inc. Among Episil's numerous SiC customers, Novusem is one of the few companies capable of SiC MOSFET mass production.
At the launch event, Cheng Taiqing, the Sales Director of Episil Technologies Inc. in Greater China, congratulated Novusem on its product launch via video call. Cheng mentioned that the demand for SiC power devices will surge amid the robust development of businesses involved in new energy vehicles, data centers and PV generation. To enable customers like Novusem to easily meet the growing demand of downstream users, Episil is expanding its production capacity to 2000 6-inch SiC OEM wafers monthly in 2022 and is expecting 4000 wafers per month in 2023 and 5500 wafers per month in 2024.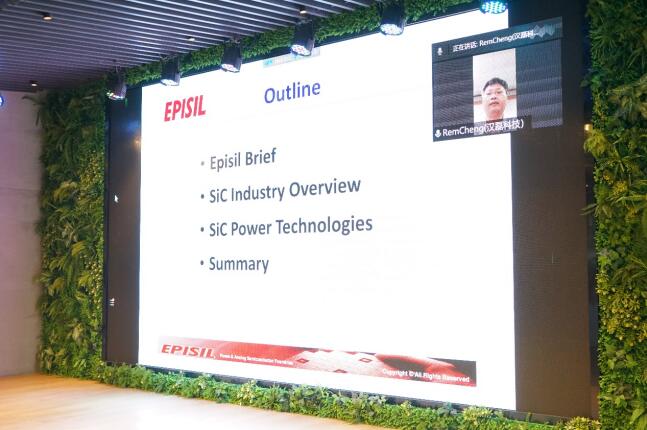 NovuSiC® EJBS™: With a High Surge Current Capability Greater than 11 Times That of Products in Its Class and under a "Zero-defect" Quality Management System
At present, Novusem possesses two SiC product series, namely the cost-effective "NovuSiC®" series and the highly reliable "DuraSiC®" series, covering NovuSiC® EJBS™ and NovuSiC® MOSFET.
Gao Wei, the Deputy General Manager of Novusem, brought to the launch event a presentation on new products, introducing the latest independently developed NovuSiC® EJBS™ and MCR®.
NovuSiC® EJBS™ is unveiled first. Gao's presentation focuses on the development history of NovuSiC®, the performance and characteristics of NovuSiC®, the comparison between NovuSiC® and competitive products at home and abroad, and the reliability and quality of NovuSiC® EJBS™.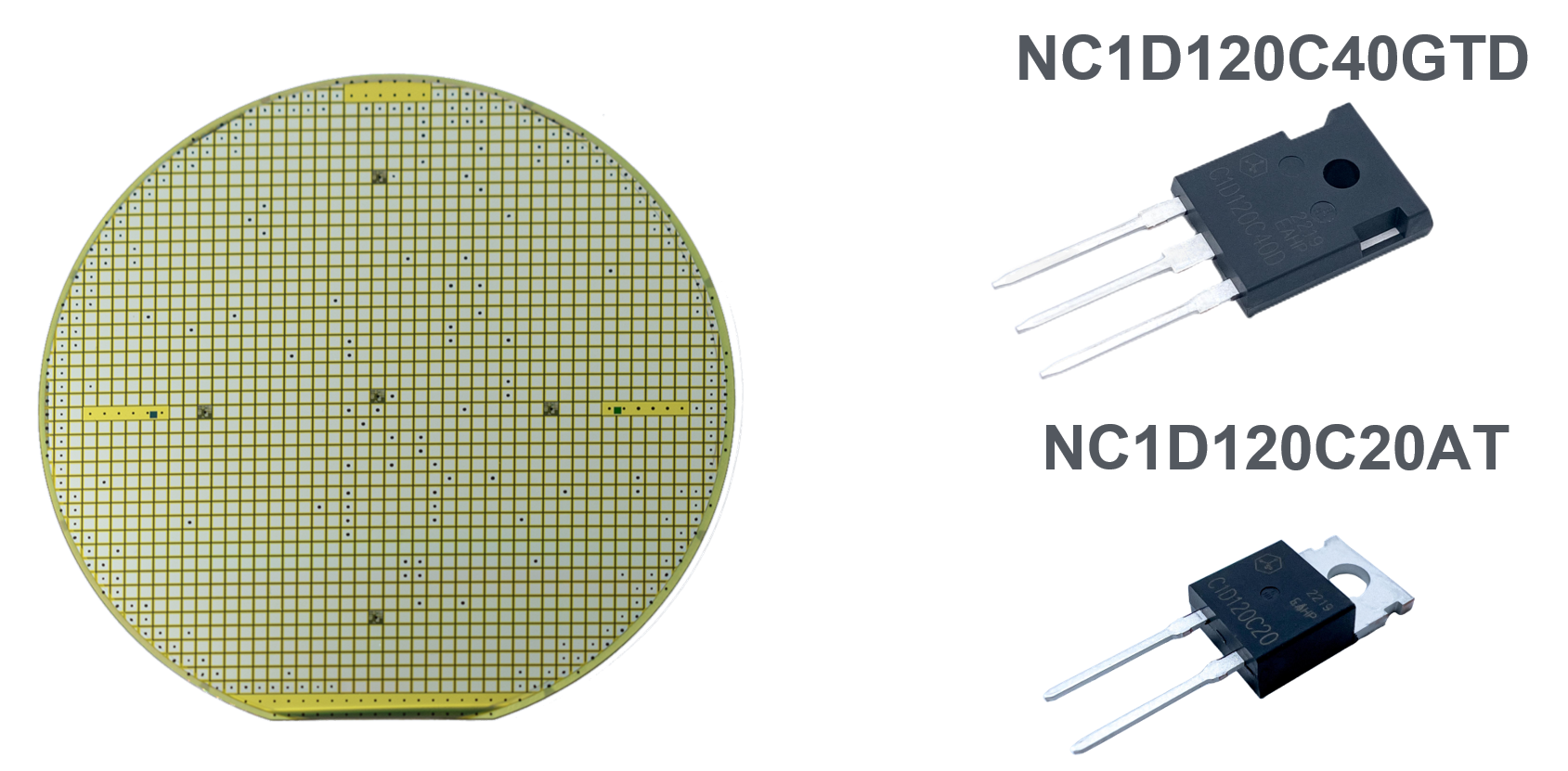 According to the presentation, SiC JBS is a composite structure uniting PIN and SBD features. Through optimized design, Novusem has developed NovuSiC® EJBS™ (Enhanced Junction Barrier Schottky Diode), which shows a high surge current capability equivalent to MPS products without increasing the technical complexity.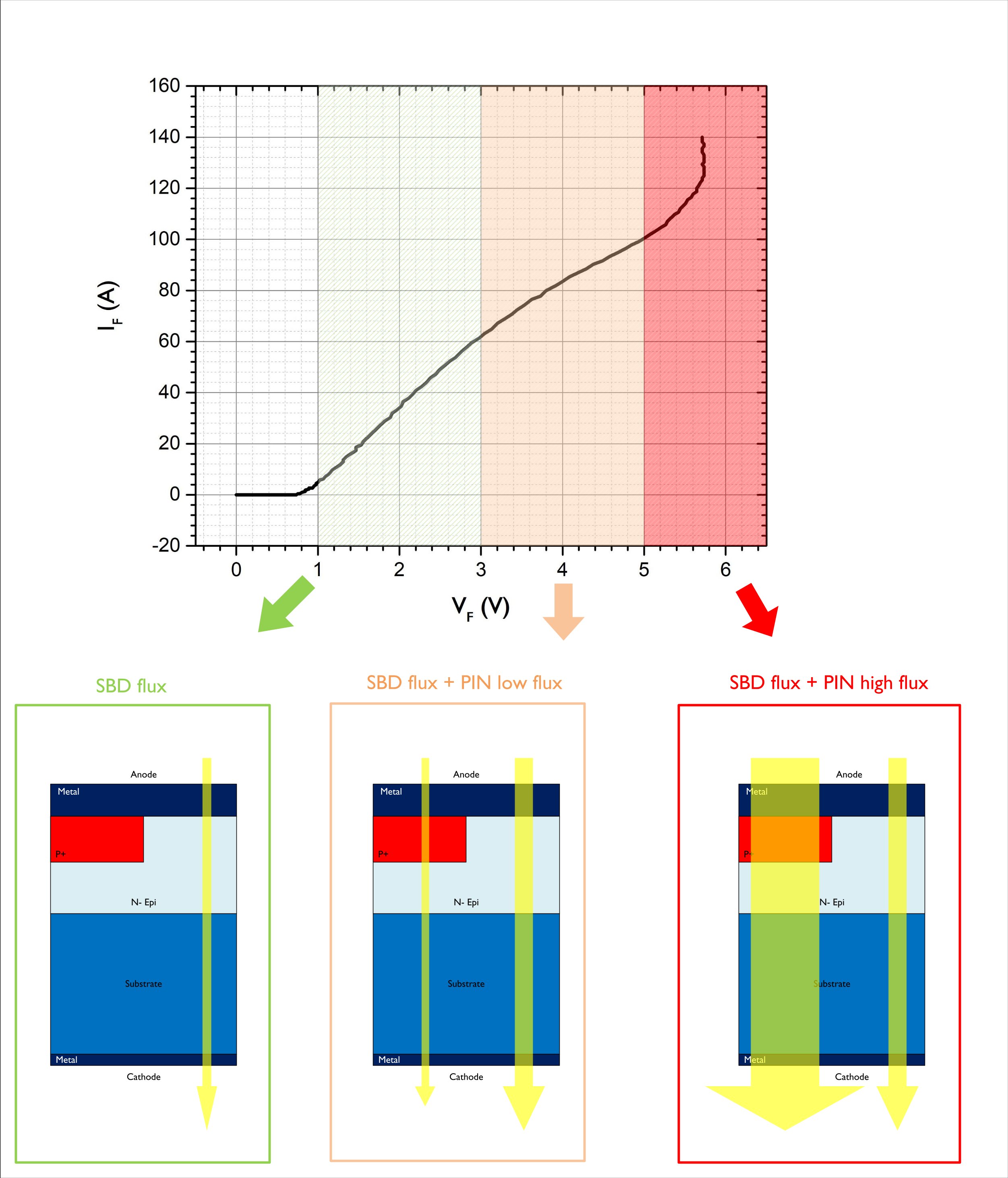 In November 2020, Novusem completed the first engineering tape-out of 1200 V/20 A NovuSiC® EJBS™, with a yield rate of more than 90%. However, to "be earnest", Novusem continued its pursuit of excellence in technology and carried out the second engineering tape-out in May 2021 with optimized technology and design. Nonetheless, Novusem was not satisfied or stopped by this. The mass production of NovuSiC® EJBS™ was initiated officially till January 2022.
Our mass-produced NovuSiC® EJBS™ (1200 V/20 A) is more robust and boasts a surge current capability greater than 11 times that of products of its kind. At a current of 20 A, the VF is as low as 1.37 V, and only a small leakage current (2 μA) is detected. In addition, the product can withstand a power of 288 W and currents up to 26 A according to reverse breakdown and high-temperature leakage test results.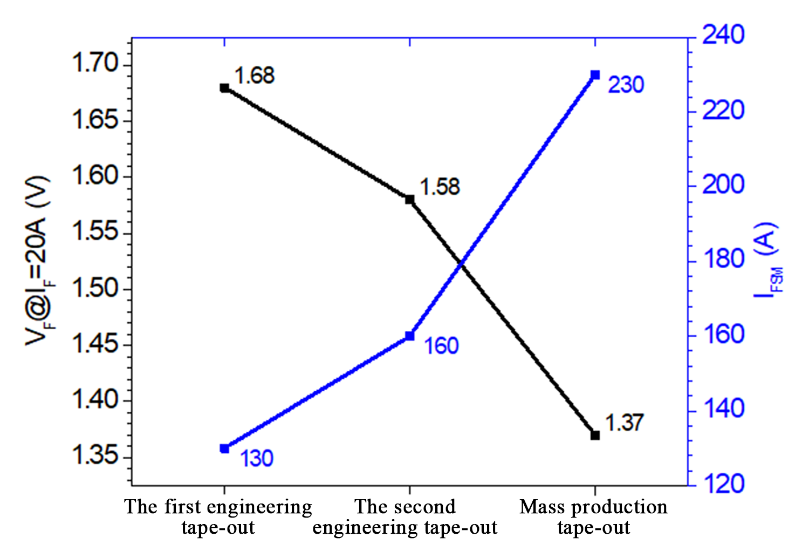 Compared with its competitors at home and abroad, Novusem NovuSiC® EJBS™ shows a low forward voltage, a low reverse leakage current, a high temperature stability, and is more cost-effective.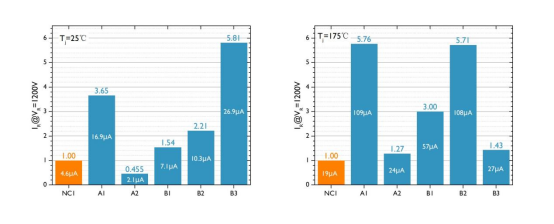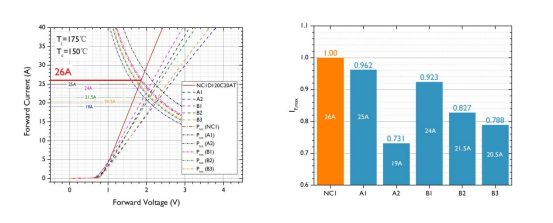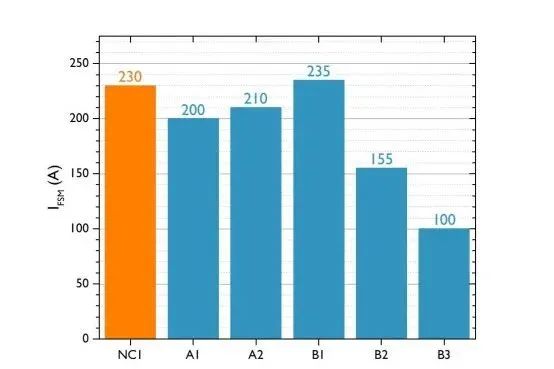 At the launch event, Novusem specially highlighted the reliability assurance measures of their products.
To deliver SiC wafers with the highest quality and reliability in the industry, Novusem strictly applies the AEC-Q101 standard to all its products and creatively proposes an AEC-Q101+ standard called NovuSuperior within the Company. To improve wafer quality, Novusem develops the WLTBI (Wafer-Level Test & Burn-in) testing system jointly with domestic equipment manufacturers to cope with potential failures caused by SiC material defects, especially failures that cannot be detected in wafer CP tests.
Dai said that, "We will identify ourselves with product performance data, as well as the stable product quality and stable product supply. It is our mission to build Novusem into a trustworthy local SiC device company, and we are making every effort to achieve this."
Novusem takes the four measures below to improve product reliability:
(1)Build a corporate culture of "zero-defect" reliability;
(2)Establish a reliability and quality management system for automotive-grade electronic devices, including the IATF16949:2016 quality management standard system, AEC-Q101 device reliability verification system, and ISO 26262 automotive safety standards;
(3)Establish the exclusive NovuStandard and NovuSuperior industry standard (AEC-Q101+);
(4)Strictly observe the DfR (Design for Reliability) development procedure.
With a Yield of over 91.2%, the Second Generation SiC MOS Delivers Significantly Lower Resistance and Gate Charge
At the launch event, Novusem unveiled its latest second generation NovuSiC® MOSFET in advance.
According to the official Novusem website, the engineering tape-out of the first-generation planar gate NovuSiC® MOSFET (1200 V/75 mΩ) was completed in May 2021, delivering a yield of 91.2%. This product began mass production in October 2021. This NovuSiC® MOSFET has a typical threshold voltage of 2.5 V, a typical on-state resistance of 62 mΩ, and a specific on-state resistance (Ron, sp) of 3.85 mΩcm2.
It features a low switching loss, more than 3μs short-circuit capability, a high avalanche ruggedness, and an operating junction temperature of up to 175°C. It may be used in higher frequency environment that calls for smaller peripheral inductors, capacitors, filters, and transformers. These features improve the system's overall power density and lower total costs.
In terms of reliability, the first-generation NovuSiC® MOSFET are undergoing AEC-Q101-related reliability verification.
According to Gao, the second-generation NovuSiC® MOSFET, developed based on more advanced technologies and an optimized design, delivers a specific on-state resistance significantly lower than that of the first-generation product, not only achieving a higher cost efficiency, but also a lower switching loss by improving the dynamic characteristics of the device.
Compared with the first generation, the second-generation NovuSiC® MOSFET has a 24% reduction in Ron,sp and a 25% reduction in Qg.
According to Novusem official, the tape-out of the second-generation NovuSiC® MOSFET has been completed and the product will be released soon. However, they will put more investment into the research and development of automotive-grade diodes (1700 V and 3300 V), SiC MOSFETs, and SiC modules to cater to market demands for high-performance and high-reliability power semiconductor devices of new energy vehicles and high-end industries.
Silicon-based Diode with nA-level Reverse Leakage Current and a High-Breakdown Voltage Superior to Similar Products
In addition to SiC devices, Novusem has also released an ideal silicon-based diode MCR® (MOS-Controlled Rectifier) with a high junction temperature, an extremely low leakage current, a low forward voltage, and a stable performance at high junction temperatures.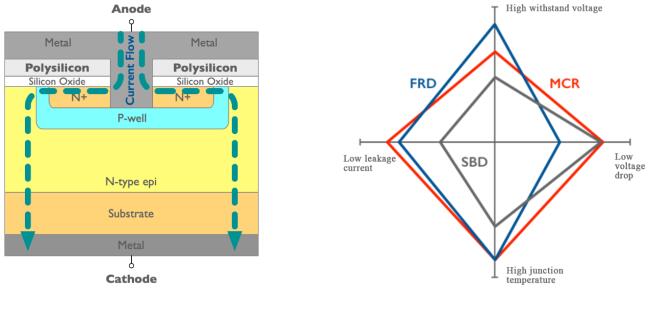 At the event, Gao highlighted the development history of MCR® technology. From 2013 to 2014, the Power Integrated Technology Lab of University of Electronic Science and Technology of China (PITeL) built up four technical platforms for MCR® products (100 V, 150 V, 200 V and 300 V) in China Resources Microelectronics (Chongqing) Co., Ltd. (formerly Zhonghang ( Chongqing ) Micelectric Co. Ltd.), realizing the transformation of technological achievements. In 2020, Novusem purchased the full range of MCR® products, intellectual property rights, and technical platforms, with the agreement coming into effect on January 25, 2021.
Compared with ordinary silicon-based diodes, Novusem MCR® products have the advantages of nA-level reverse leakage current, stable performance at high temperature and high surge current capability, suitable for medium and low voltage (150 V~600 V) applications.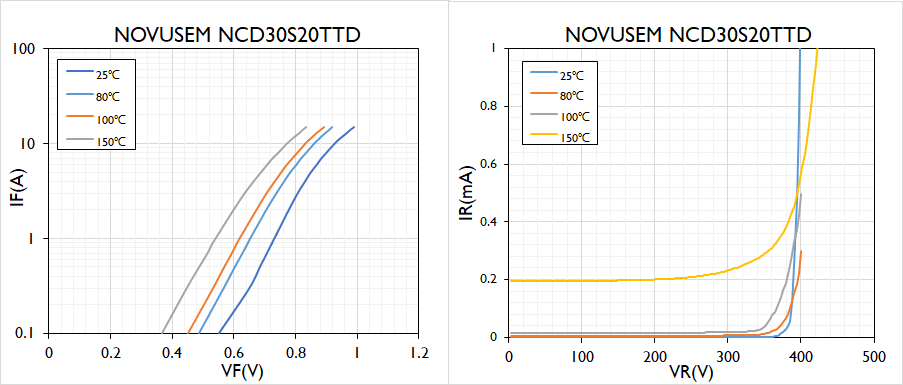 Novusem MCR® also shows advantages over its competitors at home and abroad in terms of breakdown voltage, high-temperature leakage, and reverse recovery time, demonstrating higher reliability and lower power loss. It is the true home-made substitute for imported goods.

Although both Novusem products and similar foreign products have nA-level leakage current at normal temperature, Novusem products demonstrate a better breakdown voltage at temperatures of Ta>100°C.
Boasting Extreme Performance and Excellent Cost Efficiency and Serving the High Incremental Markets of PV Generation, Fast Charging, Energy Storage, Etc.
What benefit will the excellent performance and reliability of NovuSiC® EJBS™ and silicon-based MCR® bring to customers? At the event, Wang Deqiang, a senior application engineer of Novusem, shed light on product solutions for PV generation, DC fast charging, magnetic LED lighting, and energy storage.
Wang said that the excellent performance of NovuSiC® EJBS™ would enable more cost-effective solutions for business with higher reliability requirements, such as PV and DC fast charging.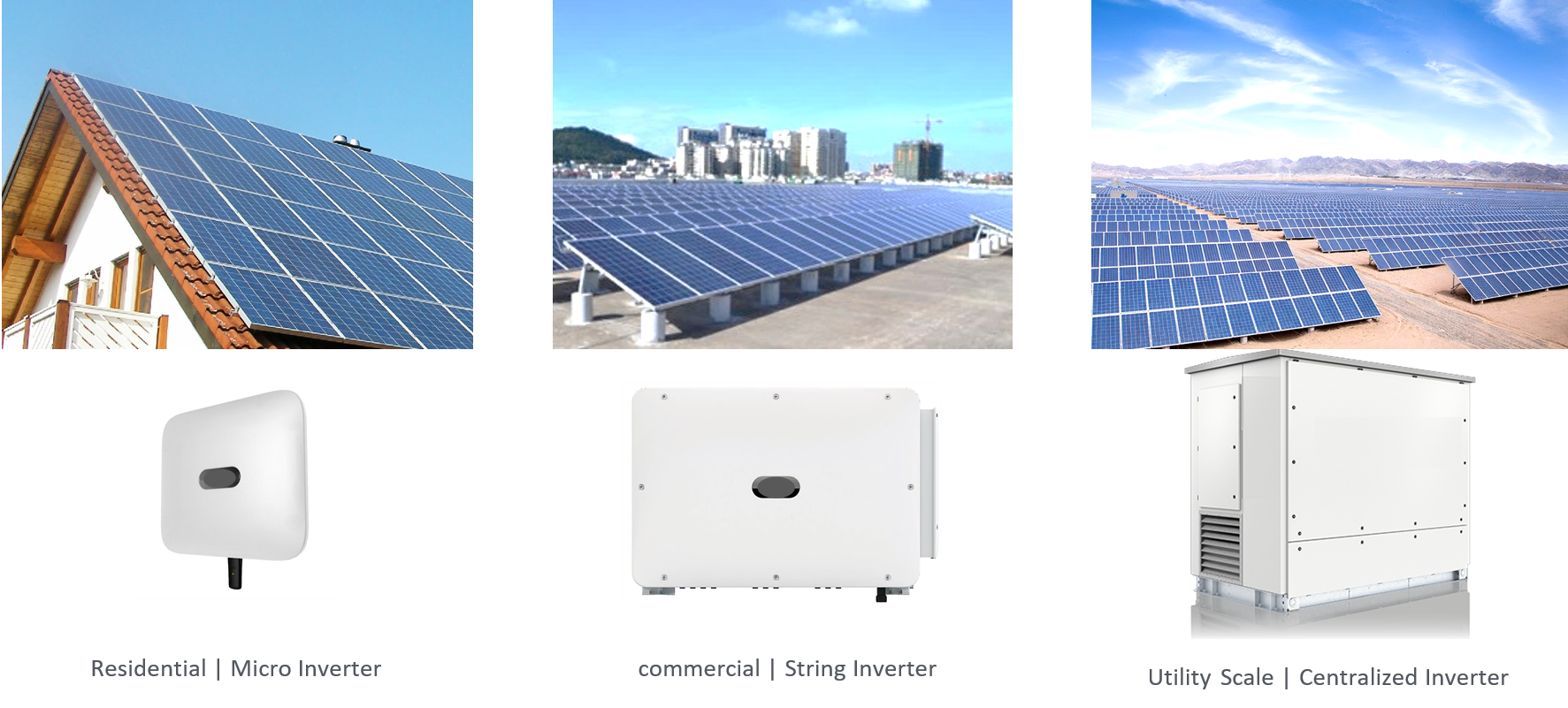 With the 1100 V PV system Boost PFC as an example: Under the same application conditions, with NovuSiC® EJBS™ adopted, the efficiency of the entire system will improve by 0.8% and the temperature rise of silicon-based IGBT and SiC diodes will be reduced by 6°C and 13°C respectively, greatly improving overall power density.

For applications in DC charging piles, with Vienna rectification for a 20-kW charging pile as an example, NovuSiC® EJBS™ improves system efficiency by 1.05%, reducing switching loss by 91% and lowering the total loss by 50% under identical application conditions compared with situations without such a product.

In the fields of energy storage and LED lighting, silicon-based MCR® can help customers improve product performance and reduce costs.
For example, in the anti-reverse connection of energy storage, Novusem's MCR® device reduces system loss by 16%, lowers device junction temperature by 10°C, and increase charging efficiency by 1.25% under identical application conditions compared with situations without such a product.

Moreover, in the high-frequency rectification of energy storage, Novusem's MCR® reduces total system loss by 18.7%, reduces device junction temperature by 13°C, and increases output efficiency by 0.27% under identical application conditions compared with situations without such a product; if the loss remains unchanged, the frequency will increase by 50% due to this product.
At present, magnetic LED lighting is in vogue. However, due to the long and narrow track space in such lighting, there is an urgent need for new technology to downsize the power supply and improve energy efficiency.

Novusem provides 2 solutions below for high efficiency LED lighting. In high-frequency rectification, after MCR® products are adopted, the maximum efficiency of >94% is achieved with an output power of 350 W and a resonance frequency of 200 kHz, while, with the output power of 50 W and the working frequency of 48 kHz, a maximum efficiency of 90% can be achieved with such products adopted.


Strict Control over the Supply Chain to Maximize Customer Satisfaction
As a leading supplier of SiC power devices in Sichuan Province, Novusem's team has rich experience in power devices and is devoted to promoting the industrialization of SiC device products in terms of product design, manufacturing, packaging, and system application.
In addition to providing internationally leading power device products, Novusem also attaches great importance to refining the Company's customer service in detailed aspects. As said by Liao Yunjian, the Deputy Marketing Director of Novusem, the Company has always paid close attention to the planning, coordination, operation, control and optimization of the entire supply chain system, with the goal of achieving the "Six Corrects", i.e.: optimizing total costs by delivering the correct product to the correct place at the correct time, in the correct quantity, the correct quality and the correct state.
Liao said that Novusem does this for two reasons, to improve customer satisfaction (by improving delivery reliability and flexibility) and to optimize the enterprise's overall process quality (by removing error costs and eliminating exceptional events).
By virtue of material advantages, SiC devices play an indispensable role in 5G communication, automotive, green energy, rail transit, and other fields. In the future, Novusem will strive to develop cutting-edge core technologies step by step and expand its power device business with every effort. It will establish a nationally leading power semiconductor R&D and manufacturing base in Sichuan, offering its contributions to the SiC industry ecology.